Modular antimicrobial coatings: 3 in 1 for all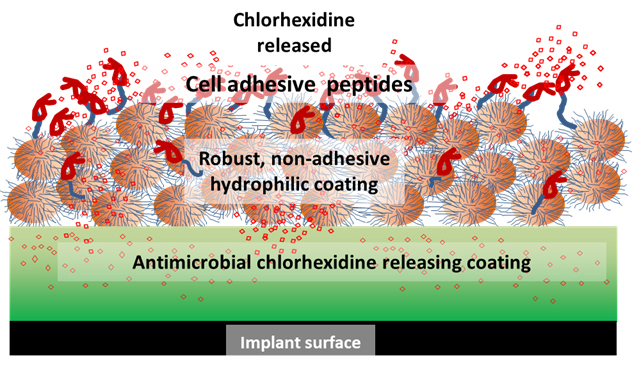 Biomaterial implants are successfully applied in modern medicine to restore human function; examples being total hip replacements, vascular grafts or dental implants. In addition, biomaterial devices are also used as temporary support systems, like urinary or central venous catheters.
Although successful in the majority of patients, often bacterial infections occur around these implanted devices. These so called biomaterial-associated infections form a most devastating complication in on average 5% of all implants and often lead to their replacement since these infections are extremely difficult to treat with antibiotics.
The design of alternative anti-infection strategies is complicated since they should not impede the proper function of the implant. Some implants, such as permanent artificial total hips, need a firm and permanent attachment to bone tissue, whereas temporary implants, like urinary or intravenous catheters should be easily removable.
Tailor-made strategies are therefore essential in the design of antimicrobial implants and devices in different clinical settings.
To this end, scientists of the University Medical Center of Groningen and DSM, The Netherlands, developed a modular coating-concept for biomaterials. They designed a robust hydrophilic coating that promotes permanent non-adhesiveness for proteins and bacteria, which can be applied on top of a base-coating that slowly releases the antimicrobial chlorhexidine. To complete the tri-module system, they enhanced tissue integration (when clinically required) by incorporating peptides in the coating, which enhances cell attachment Each of these modules can be applied separately, thus providing the medical device industry with a powerful and versatile technology to render effective antimicrobial activity for different devices with specific requirements.
Uniquely, none of the modules suppressed the functionality of the others when combined in a multi-layer coating. This modular independence makes the tri-modular approach a promising method for preparation of high performance biomaterials and an attractive means towards cost-economic downward clinical application.
The potential to control bacterial growth in combination with tissue integration for various implants and devices could open a new chapter in the design of novel biomaterials.